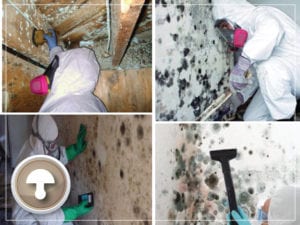 Mildew removal should be done by qualified contractors who understand the steps and have the tools necessary to properly get the job done. If not done correctly, spores can grow, leading to serious health issues for those in your home. The safety of your home depends on getting rid of mold and mildew by following our predefined steps for removing these hazardous pollutants. Let RestoreUnow handle these problems and our qualified experts will help you right away.
Entrust Your Mold Testing Problems To Our Remediation and Removal Pros
There are many types of mold that can affect your property in unique ways. We need to know what type of mold we are dealing with as this allows us to plan a strategy to effectively remediate the issue. We execute carefully designed procedures that allow us to effectively and safely remove any signs of mildew from your household. Our streamlined process for getting you back to comfort can be found below.
Step 1) Inspection & Testing
First, we have to identify the cause of the problem. In general, mold requires two main elements to grow – moisture and a food source. The food source can be anything organic, including drywall, wood, and paper.
Our goal is to remove the source of the problem and also figure out the root cause of it. Once we have identified that, we can prevent further growth. Testing allows us to know what type of mold we are dealing with. We will collect samples and then have these analyzed at a third-party lab.
Step 2) Containment & Air Purification
We use negative pressure and powerful air filtration devices to keep the spores from spreading. This is a key step. As we work, we are disturbing spores and don't want them to spread to other areas of your property. Using negative pressure with air filtration keeps the harmful spores in place, making the cleanup process more efficient.
Step 3) Elimination & Disposal
We will carefully take care of any materials in your home affected by mildew. If need be, we will go down to the studs and subfloor of your home to make sure that all signs of mildew have been removed. Our cleaning service is thorough and may require us to clean surfaces multiple times. When items are removed, we bag them, we seal them, and we dispose of them promptly. We may use a dedicated dumpster to dispose of the impacted material.
Step 4) Final Inspection
Once the area is clean and safe, we will do a last inspection. During this process, we will collect samples and send them to a third-party testing company to be analyzed. We want to ensure that the air and all surfaces meet health and safety standards.
Need Mold Removal And Inspection Services? Call Our Rockville Testing Experts!
We offer 24/7 emergency services. Within one hour, our emergency restoration experts will be on their way to your property. Our goal is to ensure that your home is a safe place for you and your family. Learn more about the services we offer by calling us or contacting us online today!
Mold Removal Baltimore Maryland
|
Mold Removal Bethesda
|
Mold Removal Brookeville
|
Mold Removal Cabin John
|
Mold Removal Chevy Chase
|
Mold Removal Clarksburg
|
Mold Removal Columbia, MD
|
Mold Removal Darnestown, MD
|
Mold Removal Derwood, MD
|
Mold Removal Frederick, MD
|
Mold Removal Gaithersburg, MD
|
Mold Removal Germantown, MD
|
Mold Removal Howard County
|
Mold Removal Ijamsville, MD
|
Mold Removal Middletown, MD
|
Mold Removal Montgomery County
|
Mold Removal Mount Airy, MD
|
Mold Removal New Market, MD
|
Mold Removal Olney, MD
|
Mold Removal Poolesville, MD
|
Mold Removal Potomac, MD
|
Mold Removal Rockville, MD
|
Mold Removal Urbana, MD
|
Mold Removal Walkersville 
|
Mold Removal Washington DC
|
Baltimore Maryland Mold Testing
|
Baltimore Maryland Crawl Space Mold Removal