Sump pumps are designed to protect your property from flooding by channeling excess water that collects in the sump basin out through a pipe leading to the exterior of the building. If this process should fail due to improper installation, incorrect sizing, equipment malfunction, blockage, or lack of maintenance, the resulting flood can be devastating to your structure and belongings.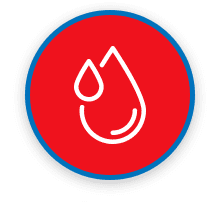 If you discover standing water in your basement, it is important to call the experts at RestoreUnow as quickly as possible to prevent further damage.
Our team of restoration experts is experienced and certified, and you can reach us 24/7, 365 days a year. RestoreUnow provides efficient, reliable water extraction and restoration services to homes and businesses throughout central Maryland, including Frederick, Gaithersburg, Potomac, Rockville, and Urbana.
Finding Reliable Sump Pump Damage Repair Experts Near You
About Our Process
A sump pump can fail for any number of reasons, and even the most well-maintained system may become overwhelmed during catastrophic storm activity or shut down during a power failure. Regardless of the cause, water damage can start to occur instantly, and mold and mildew growth may begin in as little as 24 hours. Our cleanup process is efficient and thorough and includes the following steps:
Identify the reason for the sump pump backup and take the necessary steps to halt the flow of water.
Specialized water removal equipment is used to extract the water from the affected area.
Your belongings are inventoried, removed, and categorized for restoration or drying.
Carpet and underlayment are inspected and either cleaned or removed as needed.
Disposal of items and structural materials that are unsalvageable including drywall, insulation, baseboards, or flooring.
Installation of industrial-grade drying equipment to dry the area.
Perform a thorough inspection of the area using moisture detectors and other specialized equipment to detect hidden moisture.
Arrange for repairs to your structure, including flooring, paint, and drywall.
Our goal is to return your home to its pre-flood condition as quickly as possible while ensuring that all traces of moisture have been removed.

Why Choose Our Sump Pump Damage Cleanup Service Specialists
Services You Can Rely On
You can rely on the team of certified professionals at RestoreUnow to efficiently and effectively handle the extraction, cleanup, and restoration of your home or business. Our technicians are licensed, bonded, and insured for added peace of mind, and each one is dedicated to the highest standards for quality and customer service.
Call RestoreUnow today at 301-452-7531