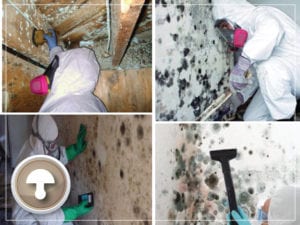 There are crucial preliminary steps that must be taken before the mold removal process can begin. If these are not done properly, harmful spores may return, leading to increased health risks for you and your family. Spores should be contained, disinfected, and disposed of. You should only use qualified technicians who understand the dangers of these hazardous pollutants and who have the skills and tools necessary to adequately deal with them. This is where RestoreuNow can help!
ENTRUST YOUR MILDEW ABATEMENT PROBLEMS TO OUR REMOVAL EXPERTS
Mold comes in different types. Each presents a unique challenge and danger. We need to know the type of mold you have in order to deal with it properly. Once we identify the root cause, we can follow specific procedures for removing it from your home.
Step 1) Inspection & Testing
The first thing that we need to know is why you have mold in your home. Mold can only grow where there is moisture and a food source. A food source can be anything organic, including paper, drywall, clothing, or food.
We don't want to simply remove the source of the problem. We need to find out why it happened to prevent it from happening again. This may require us to do testing to get a better grasp on the type of mold we are dealing with. The samples we collect will be sent to a third party lab for analysis.
Step 2) Containment & Air Purification
We use air filtration coupled with negative pressure to keep spores from spreading while we work. Our filtration process prevents them from spreading to other parts of your property. It also keeps debris to a minimum, making the cleanup process much more efficient.
Step 3) Elimination & Disposal
We will responsibly take care of everything in your property with mildew on it. The materials we remove are placed in sealed bags and then properly disposed of. Depending on the amount of material we remove, we might need to use a dumpster to efficiently dispose of it. We have a thorough cleaning process that may require us to clean walls and surfaces multiple times as well.
Step 4) Final Inspection
Once the area has been cleaned, we will perform a final inspection. During the last inspection, we might collect samples to send to a third party company for additional testing and analysis to make sure that all surfaces are cleansed.
NEED MOLD REMOVAL AND INSPECTION SERVICES? CALL RESTOREUNOW!
We are available 24/7 to provide emergency removal services when you need us the most. We dispatch our technicians within one hour of the time you call us. Our goal is to make sure that your home is once again a safe place for you and your family to live. If you have been battling with mildew problems or if you suspect there may be signs of it in your home, call us now or get in touch with us by making an online request.
Mold Removal Baltimore Maryland
|
Mold Removal Bethesda
|
Mold Removal Brookeville
|
Mold Removal Cabin John
|
Mold Removal Chevy Chase
|
Mold Removal Clarksburg
|
Mold Removal Columbia, MD
|
Mold Removal Darnestown, MD
|
Mold Removal Derwood, MD
|
Mold Removal Frederick, MD
|
Mold Removal Gaithersburg, MD
|
Mold Removal Germantown, MD
|
Mold Removal Howard County
|
Mold Removal Ijamsville, MD
|
Mold Removal Middletown, MD
|
Mold Removal Montgomery County
|
Mold Removal Mount Airy, MD
|
Mold Removal New Market, MD
|
Mold Removal Olney, MD
|
Mold Removal Poolesville, MD
|
Mold Removal Potomac, MD
|
Mold Removal Rockville, MD
|
Mold Removal Urbana, MD
|
Mold Removal Walkersville 
|
Mold Removal Washington DC
|
Baltimore Maryland Mold Testing
|
Baltimore Maryland Crawl Space Mold Removal